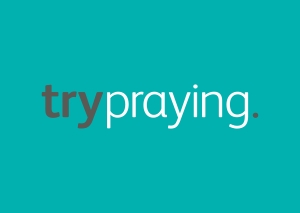 Try Praying
This May, churches across North Devon are joining together to encourage people to "Try Praying". We'll be popping up blue "Try Praying" posters to encourage people to give praying a try and we'll be offering a free booklet with some suggestions for how to go about it.
At its simplest, prayer is about spending time with God, much as we might with a human we love. Sometimes we'll use words, although we might sit in companionable silence. Sometimes we'll talk, sharing what's on our heart, and other times we'll listen.
But prayer, of course, is not a conversation between equals. We do well to approach God with respect. We do well to make an effort to speak appropriately. Equally do well to remember that God knows what's on our hearts and minds and we cannot hide anything from him… better to enter prayer honestly, warts and all.
When asked by his followers how to pray, Jesus taught them to pray to God as "Father", showing respect but within a context of a relationship of deep love.
If you aren't used to praying, or would like a bit of help growing in prayer, please feel free to pick up a Try Praying booklet from your local church or drop me an email on revgaryowen@gmail.com. The booklets are free!
We'd love to hear how you get on… or to offer some more help, so please keep in touch.
Best wishes
Gary